Lincoln Northeast High School
Class of 1977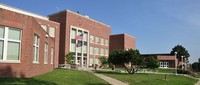 ANNOUNCEMENTS
As many of you have heard, Teri Bullock was the victim of a hit-and-run accident on September 13 and had life-threatening injuries.
Bev Hauptman Sprouse has provided this update: Teri has been transferred to Madonna. This is very promising news. She has been progressing enough for this to take place. They have removed her trach and she is eating soft foods. She is getting intense therapy. Teri still has her sense of humor. She has been working hard, yet tires easily. She is getting wonderful care!!!
A further update, as of November 19: Teri has had a couple of setbacks this past week. She has been unresponsive a couple of times. Due to this she is back in the hospital, they are doing a MRI to try and figure out what is going on. As we enter Thanksgiving week counting our blessings please remember to keep our friend Teri in your thoughts and prayers. She has gone thru a tremendous ordeal these last few months and could use your words if encouragement.
A further update on November 20 from Sue Brownell Murtaugh: I talked to Teri B. on the phone today. She was very alert saying that she returns to Madonna Rehab tomorrow.
FUNDRAISER FOR TERI AND FAMILY
Liza Elena at the Eastside Gym in the Meadowlane shopping center at 70th and Vine Streets now has "Team Teri" wristbands available for $2 (giving a little extra will help the family). Contact her at LPFitnessNE@gmail.com
An account has been established at Union Banks in Lincoln to help cover Teri's medical expenses. You can send or take checks to any Lincoln Union Bank location. The account is in Teri's name; there is no time limit on the donations. Thanks to Bev Hauptman Sprouse and Terry Cartagena for getting this set up!
Thanks to also to those who have shared updates about Teri on the Facebook group!
Welcome
Welcome to the planning website for the Lincoln (Nebraska) Northeast High School Class of 1977's 40-year reunion! We had a fabulous reunion - check out some of the photos in the Photo Gallery! Also, watch for announcements about additional future activities! If you are a member of the LNE Class of 1977, and would like to participate, please take a look at the First Time Visitors page to get started!
Connect with classmates on a closed group on Facebook. A "closed group" is one that you need to either be invited by a current member to join, or request to join by clicking the "Join Group" button on the group's page, before you can see it or participate in the discussion – and of course, you have to have a Facebook account! If you are on Facebook and would like to participate, please visit the Facebook group and ask to join!
The Reunion Committee: Patty Pierson, Tim Becker, Debra Joy, Donna Grant, Jan Haynes Butler, Rhonda Witt Ohlheiser, Judy Taylor, Lisa M. Kahler, John Berry, Peter Jorgensen