Lincoln Northeast High School
Class of 1977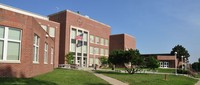 ANNOUNCEMENTS
Here's a video about a way to help current LNE students:
---
Welcome
Welcome to the planning website for the Lincoln (Nebraska) Northeast High School Class of 1977's 40-year reunion! We had a fabulous reunion - check out some of the photos in the Photo Gallery! Also, watch for announcements about additional future activities! If you are a member of the LNE Class of 1977, and would like to participate, please take a look at the First Time Visitors page to get started!
Connect with classmates on a closed group on Facebook. A "closed group" is one that you need to either be invited by a current member to join, or request to join by clicking the "Join Group" button on the group's page, before you can see it or participate in the discussion – and of course, you have to have a Facebook account! If you are on Facebook and would like to participate, please visit the Facebook group and ask to join!
The Reunion Committee: Patty Pierson, Tim Becker, Debra Joy, Donna Grant, Jan Haynes Butler, Rhonda Witt Ohlheiser, Judy Taylor, Lisa M. Kahler, John Berry, Peter Jorgensen